The Yakima Chief Hop processing facility in Sunnyside, Washington, graciously opened up their doors to the Yakima Valley's homebrew club, the Yakima Brewers. Thankfully, the Yakima Brewers are a great bunch of folks who also invited the neighboring Tri-Cities homebrew club and the Mid-Columbia Zymurgy Association along for the tour.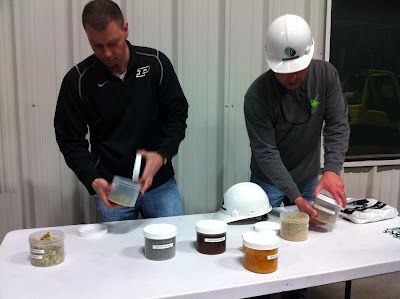 Karl Vanevenhoven, the facility's Director of Operations, and Ken Mortensen, the Plant Manager, provided an educational and eye-opening tour of the extraction process, packaging, pelletizing, and storage of hops.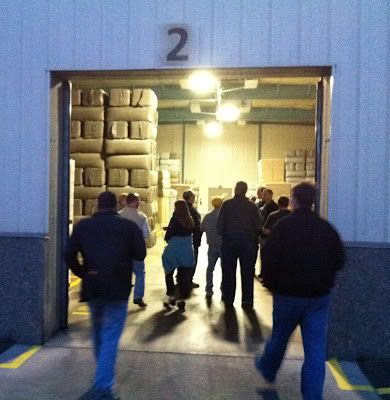 The CO2 extraction process uses high-pressure CO2 (3,000 PSI) pushed through ground hop pellets to extract oils and acids. A second process using agitation and food-grade chemicals to adjust PH separates the alpha acid, beta acid, and oils. Nothing goes to waste - the remaining vegetable matter is pelletized again and sold as livestock feed.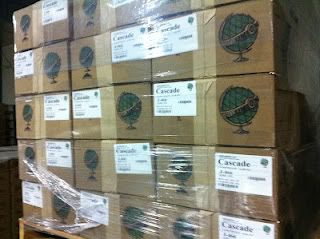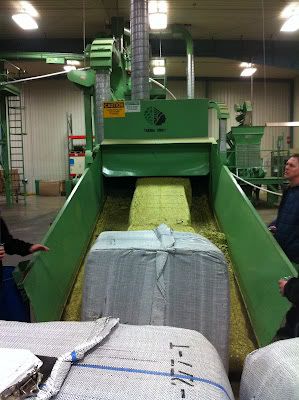 The warehouse stores all forms of hops - whole leaf, pellet, and extract - in a 30-degree, humidity controlled environment.
 Hop pellets begin as 200-pound bales of compressed whole hops straight from the cold storage warehouse. The bales are put on a conveyor and shredded before the pellet machine makes pellets. The shredded hop material is forced through dies to create pellets.
 
The tour finished with a generous number of 3-ounce hop samples (everything from Simcoe to Sorachi Ace), t-shirts, posters, and a kegerator full of Snipes beer. Yakima Chief's Ken and Karl were fantastic hosts, and many thanks to the Yakima Brewers for letting Mid-Columbia Zymurgy tag along!
Follow more of John Reed's adventures at www.reedbrewing.com. Or, if you're super-duper bored, watch hops grow live on his web-cam at  www.jdr.org/hopcam/hopcam.jpg