There might have been no Session this week, had Justin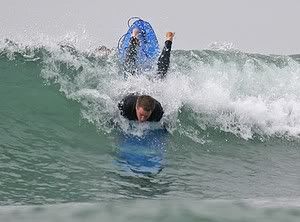 been eaten by a shark while out on the ocean on his longboard. He's been surfing a lot lately, and by surfing I mean paddling around on his stomach, watching others catch waves.

The phones are working this week, and we exploit this fact by taking some unusual first-segment calls. Shat's announcements and feedback come soon after.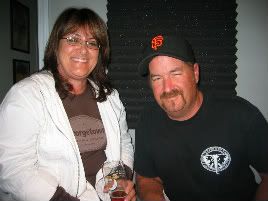 Matt and Leanne Peterson join us in the studio to tell us about the first ever Bay Area Craft Beer Festival at the Historic Cannery District of the Martinez Waterfront Park on Saturday, October 23rd. The BN crew will join the Bay Area's top craft breweries in what looks to be a great inaugural event.

Abita Beer's brewmaster Mark Wilson joins us from the brewery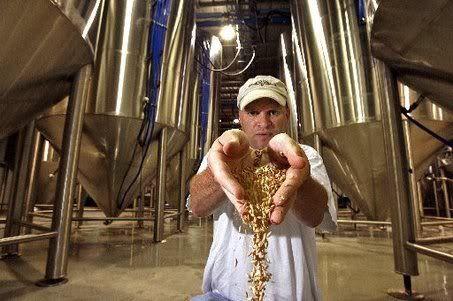 in Abita Springs, Louisiana. We launch into the goings on at Abita in the aftermath of the recent cataclysmic events in the Gulf Coast, including Katrina and the BP oil spill. Mark tells us about the losses sustained by the brewery after the hurricane, but he pleasantly surprises us by telling us of their continued growth despite the sluggish economy.

We taste the Amber Lager, and discuss its malt and hop profile. We then get into a few bottles of Purple Haze (a raspberry wheat beer). Mark discusses his style of brewing fruit beers, and how his differs from more common approaches. We finish the tasting by sampling the
Turbodog, an English style brown ale.



We get more detailed about Abita's financial contributions to their beleaguered community. We learn about S.O.S (Save Our Shore), a charitable pilsner brewed to raise money for the oil spill recovery effort. In addition, the profits from their merchandise continue to go towards various Gulf Coast charities.

Amelia Slayton gets on the line from Gordon Biersch in San Jose, California to give us an exclusive on the winners of the 2010 National Organic Brewing Challenge.

Tasty pours us a listener homebrew (an Orval clone). Sam and Schuman infiltrate the studio, antics ensue. We take several compelling DOTW calls, and after a tough decision, we decide that J.B. from Mississippi wins this week.
The Sam Dance:
Tasty checking out the Abita labels: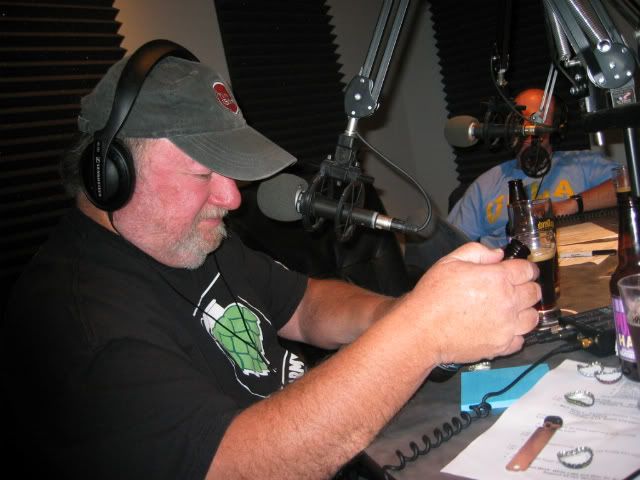 Schuman prefers his beer frost brewed:
The Session crew: