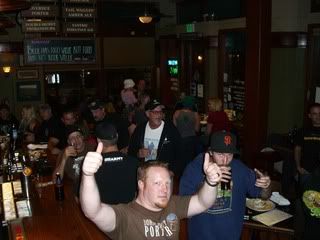 Fighting bandwidth issues and twenty minutes behind schedule, The Session kicks off another live broadcast to a packed house at Downtown Joe's in Napa, California. Justin theorizes that the crowd is there not for the broadcast, but to drink the keg of Tasty's Russian River brewed Janet's Brown. Tasty is particularly pleased with this batch; he thinks last year's needed a little more time to age, but it was gone before it had a chance.


We do the feedback, which includes an interesting yeast-related question, as well as a note from a BN Army soldier in Maine who notched his first ever competition win with a Double IPA (which scored a 39.5) in the New England Regional Homebrew Competition. Justin covers Shat's announcements - pay close attention, as you'll hear how you can win a trip to next year's GABF.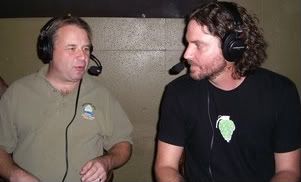 We get into recipe design, and discuss how a professional brewer goes through that process. Justin asks Downtown Joe's brewmaster Colin Kaminski why he is looking for a new pale ale recipe - Colin thinks the industry has gotten too far away from what a pale ale is supposed to be. Tasty describes their initial ideas, and reveals the goals they had in mind when they first considered a ground-up redesign of the recipe.


Colin tells the story of a recent grain delivery gone awry. The delivery guy managed to dump eight full sacks onto the hood of a parked Volvo before taking off into the night. Ever the considerate citizen, Colin left a note under the car's windshield wiper. From the telling of this incident comes a great listener suggestion for a name for the new beer: Hit & Run Pale Ale.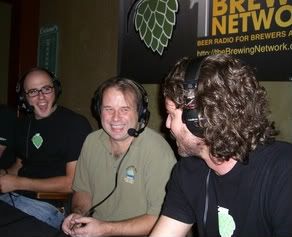 We get into the design of the grain bill, and Colin tells us that he thinks barley is most appropriate for the style. Justin asks if any parts of the recipe were lifted from other beers brewed in the past, or if they truly started from scratch. They further delve into the hop bill, and its relation to the grain used. They explain the reason behind the low IBUs compared to the brew's gravity, among many other great details offered in this segment.

Several of the listeners in attendance take turns on the mic and give their opinions of the beer. They range from suggesting more hop character on the finish, to a sheepish mention that the beer is not as clean as it could be. Though the brewers take the pointers in stride, Tasty counters with his opinion that this particular beer should mostly be about the malt character. Despite their comments, everyone really enjoyed what they tasted and they all think that Tasty and Colin are off to a great start.

As we wrap things up, Colin and Justin discuss the merits of free labor, and Colin informs us that his new Japanese intern became interested in brewing because of the BN. A very tipsy Doc gets on the mic to tell us about his day wine-tasting in Napa, in which he talked everyone's ears off about beer. To his drunken dismay, he is quickly designated this week's DOTW.
Moscow is the producer of The Sunday Session. He will henceforth be referring to Tasty as "Mr. T."