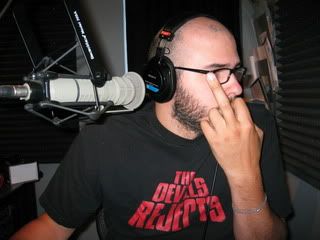 With Justin on the road at the Oregon Brewers Festival, JP is at the helm as this episode of The Session gets underway. While we wait for a tardy Doc and Beevo to show up, the in-studio crew covers the latest beer news headlines, followed by an update on Shat's new head brewer job at Handles Gastropub. We close out the segment by reading letters from the Feedback.

Live via Skype from Hair of the Dog Brewing Company in Portland, Justin, Nate, and founder Alan Sprints join the show. Justin tells us about his road-trip thus far, and how his lifestyle is taylor-made for perpetual travel, before asking Alan to describe the unique equipment he uses at the brewery.
Alan express his love of very frequent, small-batch brewing, as well as the freedom to experiment often. We hear about his techniques for aging, which includes bottle-conditioning and an interesting fermentation set-up to compensate for the fact that he does not filter his beer. The gang discusses whether or not paying exorbitant prices for rare beers is worth it, while Justin and Nate are lucky enough to taste several of Alan's beers. After answering a few listener questions, the remote crew heads off to drink more Hair of the Dog creations.


In another installment of Press Play, I am joined by Boston Beer Company's Jim Koch to discuss Brewing the American Dream, his micro lending program. He tells me about the early days of Sam Adams, and how his experiences led him to understand exactly what a fledgling small business needs - money and coaching. His loan program provides both, and starting this year, they will provide it exclusively to start-up breweries.

After Justin phones in and warns us to stay away from his stash while he's gone, we roll through an underwhelming round of DOTW calls. Due to his tendency to repeat himself, Captain Kirk wins the medal. Due to his tendency to repeat himself, Captain Kirk wins the medal.