Justin opens the show with the story of yet another near-death experience, this time thanks to a flipped go-kart over the Fourth of July weekend. After we go over the calendar of upcoming events and the studio's new streaming abilities, we resurrect the long-dead Beer News segment by reading and commenting on the latest industry headlines.


On the line from an air-conditioned tasting room across the street from his boiling hot brewery in La Vista, Nebraska, master brewer and distiller Zac Triemert joins the show. Zac, formerly of Upstream Brewing Company, last guested on The Session in 2007, for the infamous "very stripper Christmas" show - shortly thereafter, he founded Lucky Bucket Brewing Company and the Sòlas Distillery. He discusses his reasons for wanting to open his own business despite his great gig at Upstream, and the unexpected obstacles he has encountered as the demand for his product grows.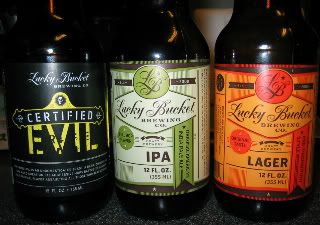 As we taste along, Zac shares the recipe design of his pre-prohibition style lager, as well as the story behind its creation. We then get into his IPA, which Justin dubs the winner of the give-me-another-glass award, before we round out the sampling by pouring some Certified Evil, a barrel-aged beer that's hard to classify. The crew discusses the distilling side of Zac's business, including the production techniques for his brands of vodka, rum, and whiskey. We then answer several listener questions, and as he heads off to make himself a Steel Bottom, we bid Zac farewell.

We read this week's Feedback before we launch into Guess Who Said It, a new game where we try to guess the Brewcaster behind the quote. Several hopefuls chime in with entertaining DOTW calls, and due to his outpouring of affection, we had no choice but to award this week's medal to John from Florida.