Justin would normally be upset about waking up to do the show at the crack of noon, but his love of this week's guest, the legendary Brasserie Cantillon, is stronger than his love of sleeping in. Shat, back from a trip to several specialty liquor stores, rolls into the studio armed with less of their hard-to-find beer than we had hoped, so Justin is forced to dip into his personal stash.

Fresh off his last brew until the winter, Jean Van Roy, the fourth generation head of the 111-year old brewery, joins us on the line from Brussels, Belgium.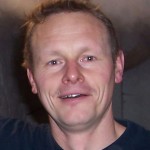 We hear about the rich history of the techniques he employs when brewing and blending his world-renowned lambics, and how he hopes to pass his traditions along to his two kids. Jean goes on to lament how his weather and space-limited production and relatively low annual output leads to high prices for his beer in the U.S. Unfortunately for beer drinkers everywhere, he has no plans to increase production, as his only option would be to decrease his turnaround time (which is generally around three years for a single batch). As a strict lambic-purist, he refuses to do that, concerned that it would fundamentally change the beer's character. For this same reason, he does not want to move to a larger facility, as he is sure the building itself plays an important roll in the beer's flavor profile.


As the interview continues, Jean discusses his beliefs regarding the beer industry's loose use of the term "lambic." We listen as he talks about the production of his fruit beers, and just as we crack a bottle, Jean gives us the detailed recipe for Iris. We learn all about many of his other varieties, including Bruocsella (1900) Grand Cru, Lou Pepe Kriek, and the infamous Fou'Foune.  We're also briefed on the proper glassware for serving and tasting lambics.

As the show winds down, we read three week's worth of letters from the feedback, which include several brewing questions for Tasty and Nate. Beevo's baby calls in live from the womb to read a Mother's Day poem, and several callers give their resumes and their sob stories hoping to be this week's DOTW. Thanks to his salacious contributions to the BN, Tom from Virginia gets the medal.