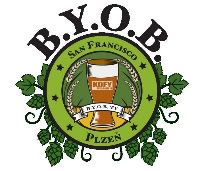 Fresh off the Saturday night premier of B.Y.O.B. TV, the Brewcasters kick off this Sunday Session with new author Gordon Strong in the studio. Justin plays some clips from the Sunnyvale Ford commercial he and JP filmed as part of their deal with KOFY, and the crew gives JP grief for his wooden delivery (which actually wasn't bad at all). Justin was only moderately satisfied with the first episode, but he promises that the show gets better and better as the episodes progress.


Beer blogger Jay Wilson, who has just finished the last day of an extended all-craft-beer diet, joins us on the line from his home in Prescott, Iowa. Jay has garnered national attention for his Monk-inspired, 40-day liquid diet, which started on Ash Wednesday and saw him consume only homebrewed Doppelbock for the entirety of Lent. We talk about the medical and physical implications of the diet, and Jay describes his doctor's horror when he approached him with his idea. After hearing about the surprisingly positive effects the experiment has had on his professional as well as his home life, we say goodbye to Jay, who heads off to make himself another bacon smoothie.


Homebrew guru Gordon Strong tells us about his all-grain brewing book, Brewing Better Beer: Master Lessons for Advanced Homebrewers, and how the book came to be. Justin is convinced the BN is responsible for Michael "Mufasa" Ferguson writing the book's foreword, as he plays back an accurate Tasty prediction from an old Session recording. We hear about Gordon's role with the BJCP (which inspires a vitriolic rant from JP), as well as his unprecedented back-to-back-to-back Ninkasi wins in 2008, 2009, and 2010. We listen as Gordon tells us about his beginnings as a mid-90s homebrewer - incredibly, he won a best-in-show award with only the fifth beer he'd ever brewed. He then promptly announces that he is done with competition brewing.

The last segment is chock-full of BN nonsense, as we answer listener questions from the chatroom and roll calls for DOTW. In a landslide, B-Dog from Melbourne, Australia, wins the medal.