Justin opens the show by sharing another near-death experience on a trip to visit the Woods. They put him to work on their property, directing him to cut down a large tree with a chainsaw, and he narrowly missed severing his legs in the process. Marcus Duffey from Great Northern Brewing Company calls in to tell us about the Beer Barter. There was a large festival crowd, and many contestants made submissions, hoping to score a year's supply of beer - in the end, the winner was a guy who produced several Black Star radio commercials. Crupp calls in to recap the fourth annual Homebrew at the W.E.B. Shat's announcements are next, followed by a call from Brett to talk about homebrew legislation in his hometown of Portland, Oregon.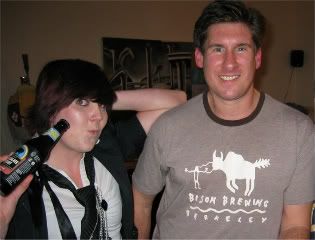 Bison Brewing Company's Dan Del Grande and newly hired beer wench Ashley Routson join us in the studio. Dan gets into Bison's history, as it was one of the original Bay Area brewpubs (founded in 1989). Doc, in a handful of early 1990s visits to the brewery, was shocked to see the glorified homebrew system they had producing the beer. Dan had the same reaction when the opportunity to buy Bison arose in 1997 - he goes on to describe the tough learning curve, as he was trying to run a brewery and a restaurant with essentially no experience. The crew discusses the merits of bartending; the consensus is, between the tips and the busy yet stress-free workload, it is the best gig in the craft beer industry. We taste and discuss some of the beers Dan brought, and Doc can't get enough of the Raisin Cain.
Dan details how he makes beer that is certified 100% organic, as well as the benefits of organic farming. Justin likes to use environmental consciousness as his excuse for the overgrown front yard at the Rat Pad. We then hear from Ashley, as she describes her transient lifestyle, complete with a stint living in Sonoma, working in the wine industry. She wrote her blog,
Drink with the Wench, as a hobby for many years, looking at wine as her work and beer as her fun. Starting this year, she has been working with Dan helping to promote and brew Bison beer. She bills herself as an all-purpose assistant and social media consultant - one that isn't afraid to get her hands dirty at the brewery.


We play an impromptu round of the long-neglected Stump the Brewer. We read the many listener letters in this week's feedback, mostly offering opinions on the upcoming switch to a membership-based show archive service. The phones are on the fritz again, so only a few DOTW hopefuls are able to get through. After careful consideration, Hastings wins the medal.