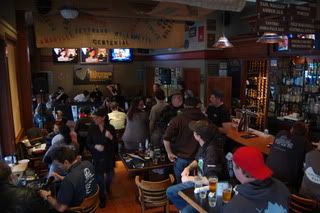 The internet connection at Downtown Joe's is finally cooperating for a Sunday Session broadcast, and the web cam is streaming the show live for the first time ever. JP is happy to hear that Two and a Half Men has been kicked off the air, as there is now an open time slot for Brew Your Own Beer TV. Justin reminds the soldiers waiting to get their hop grenade tattoos that they will also need to get the â"¢ next to it. The crew discusses the impending switch to a membership-based archive service, as hoards of new listeners have recently been exhausting the BN's servers, downloading the entire library of shows all at once. We close out the segment with two weeks worth of feedback.
Colin tells us about his new book covering water chemistry, simply titled Water, soon to be followed by Hops and Barley. Justin and JP briefly consider writing a book, strictly for financial gain, titled Drinking. We begin to dissect exactly how Colin and Tasty have been tweaking both the brewery and their recipe in their continued development of what will become Downtown Joe's new pale ale. Colin starts by stating their goal for the final product - a refreshing beer that reminds one of hops without tasting like an IPA - then he goes on to tell us what they did and did not like about previous batches, and what steps have been taken to fix the problems that have been identified. He further details his techniques for clarification, as he does not believe in filtering.


While Justin gives his critique of the new brown ale, Colin surprises everyone by suggesting brewers use malt extract and master water, sanitization, and yeast, before making the switch to all-grain. We also hear about techniques for perfecting carbonation, followed by instruction for mashing and aging properly. He breaks down how to identify and fix problems by tasting at various points in the process. Colin tells us that he expects any beer he's currently pouring to score in the mid 30s, and he is constantly improving, perpetually fine-tuning tuning and striving to make better beer.

The crew continues to taste the many listener homebrews circulating around the brewpub and tune out the buzz of the tattoo gun, as Justin berates Schuman for having the audacity to move out of the Rat Pad. Justin explains why he will never get the hop grenade tattoo, and thanks to a serious lack of candidates, That Guy's wife wins DOTW.