Off to an early start due to Super Bowl XLV, the first 15 minutes of this week's Session is spent defending John Palmer's indispensable How To Brew from the senseless ramblings of an idiotic reviewer on Amazon. Essentially the only negative review of the book anyone has ever heard, the odd nature of his criticism incites vitriol from listeners and Brewcasters alike. A quick message to Dan from Connecticut, on behalf of all of us at the Brewing Network: SUCK IT.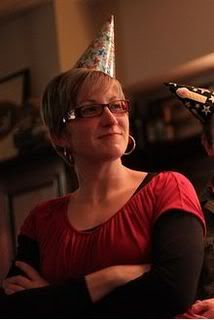 Jayne Lewis, head brewer at Mountain Goat Brewing in Richmond, Australia, joins us via Skype from the brewery. It's early Monday morning for her, yet she is immediately given a hard time because she's sipping from a mug of hot tea instead of a glass of cold beer. We hear about her beginnings as a professional brewer, from lying about her experience during an interview to land her first gig, to her years spent making wine.

Jayne describes the two staple beers she produces for Mountain Goat - Hightail Ale, a hybrid English/American style amber nicknamed "The Bastard Child," and an organic Steam Ale. As we marvel at the price of a 6-pack down under (which is nearly double that of one in the States), Jayne points to the high cost of production coupled with the crippling ABV tax imposed by the Australian government to explain the disparity.


We further hear about the infrequently brewed styles sporadically available at the brewery, such as their west coast inspired IPA, as well as staff favorite Surefoot Stout. Jayne goes on to detail the sustainable business practices implemented at the brewery

- from their capture and usage of rainwater, to the utilization of solar power to heat the water for brewing. Additionally, Mountain Goat rewards employees who get to work without the use of a car in the form of daily bonuses.
After she divulges the recipe for her rye IPA, Jayne bids us farewell and heads off to start her workday. The crew is eager to watch the Super Bowl (but even more eager to hit the buffet), so we take a few quick calls. Justin declares that Iceclimber from Perrysburg, Ohio, is nominated for and wins the first ever Best Beer List of the Week award, and Swilly the Knight from Washington wins DOTW.
Moscow is the producer of The Sunday Session. He would like to congratulate the Denver Broncos on their victory in Super Bowl XLV.