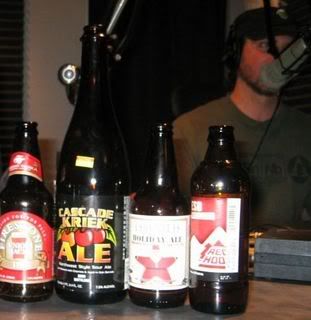 Redhook Brewing Company's new manager of brewing operations Jen Talley joins the Brewcasters in this episode of The Session. Having spent the previous two decades expertly crafting beers for Squatter's Pubs in Utah, Jen describes not only the huge leap from producing 1,200 annual barrels with Squatter's to more than 175,000 with Redhook, but the culture shock of her move to the Pacific Northwest. After we say goodbye to Jen, we say hello to the 6th annual Brewing Network Awards, which are, of course, presented in our typical long-winded fashion.
Guest of the Year - Jean Van Roy, Cantillon                           Pimp of the Year - BN Homebrew Clubs

Fallen Soldier - The Bisket                                                          Dedication to Personal Success - Bloberglawp

Caller of the Year - Andy Wood                                                  Asshat of the Year - Terrence the Black

No Pants - White Labs                                                                 Drunk of the Year - Swilly the Knight

Douche of the Year - Naysaying Homebrew Clubs              Hindsight Award - Beevo Moore
Song of the Year - Modern Hearts by The Trophy Fire
People I Used to Like Before I Knew Them on Facebook - Jason Petros
Beer of the Year - Drake's 1500 Pale Ale
 
 
Congratulations to the winners of the 2011 BNAs!